The art of selling sow feed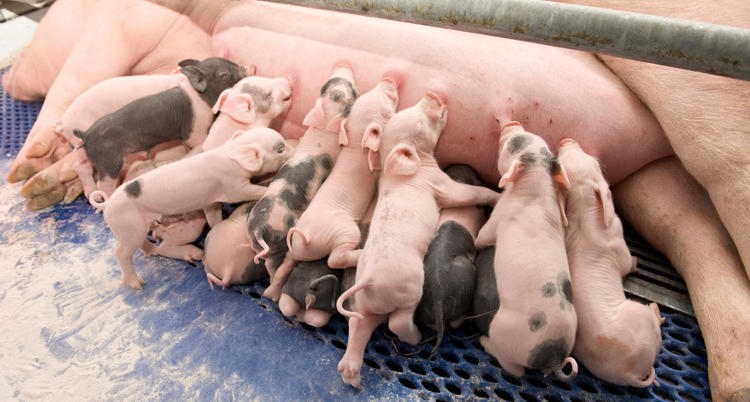 The first step to success: Foundation
To be successful with your sow feed the "FOUNDATION" knowledge is key and leads to well considered choices. in this newsletter we give you a taste of the first step, the foundation, in the coming newsletters we will highlight the next 3 steps: feed design, product and application and sales and advice.
Energy and amino acid needs
The foundation helps to establish the basic energy and amino acid needs, these required nutritional needs are depending on:
Intake
Production level
Condition
Body composition
Lactation
Litter growth and intake are leading
As you know (table 1) the desired litter growth depends on amount of piglets and weaning weight, to calculate the energy and amino acid requirements you take the feed intake into account.

As you can see in figure 1 the milk yield increases rapidly after birth. When you translate this to the required amounts of amino acids and energy (figure 2), you see big differences between week 1 and weeks 3 and 4.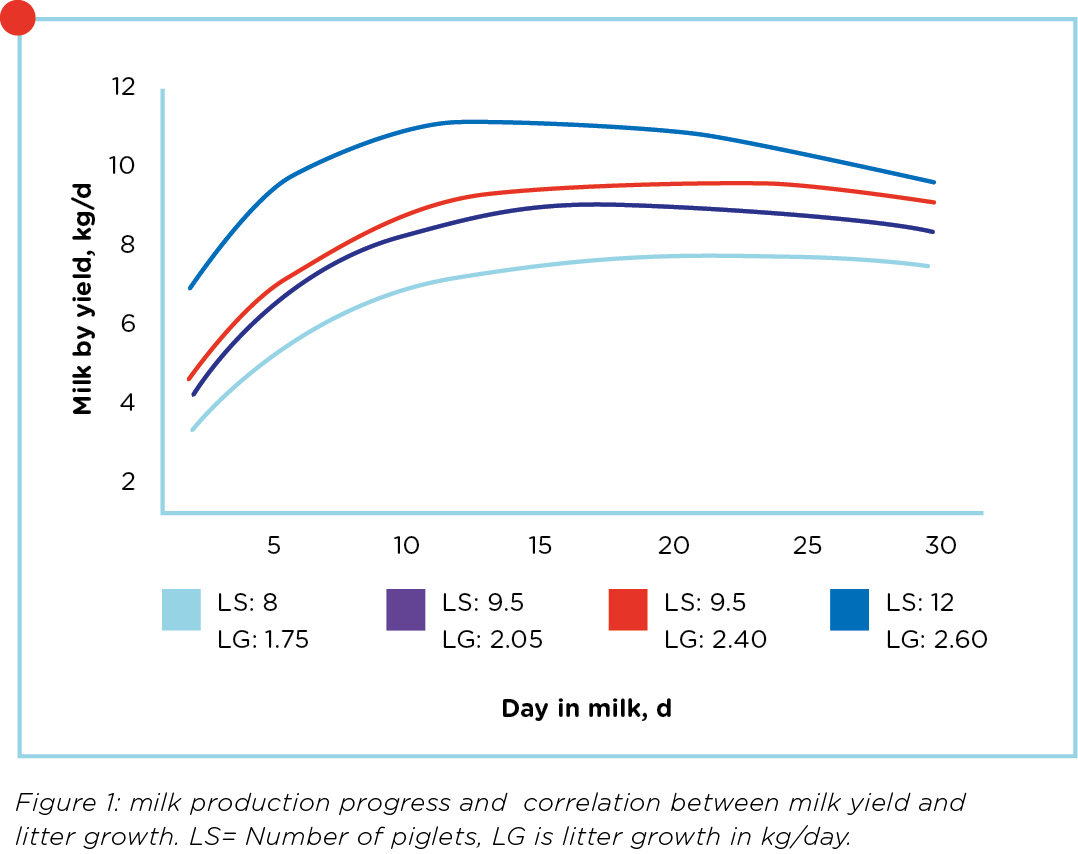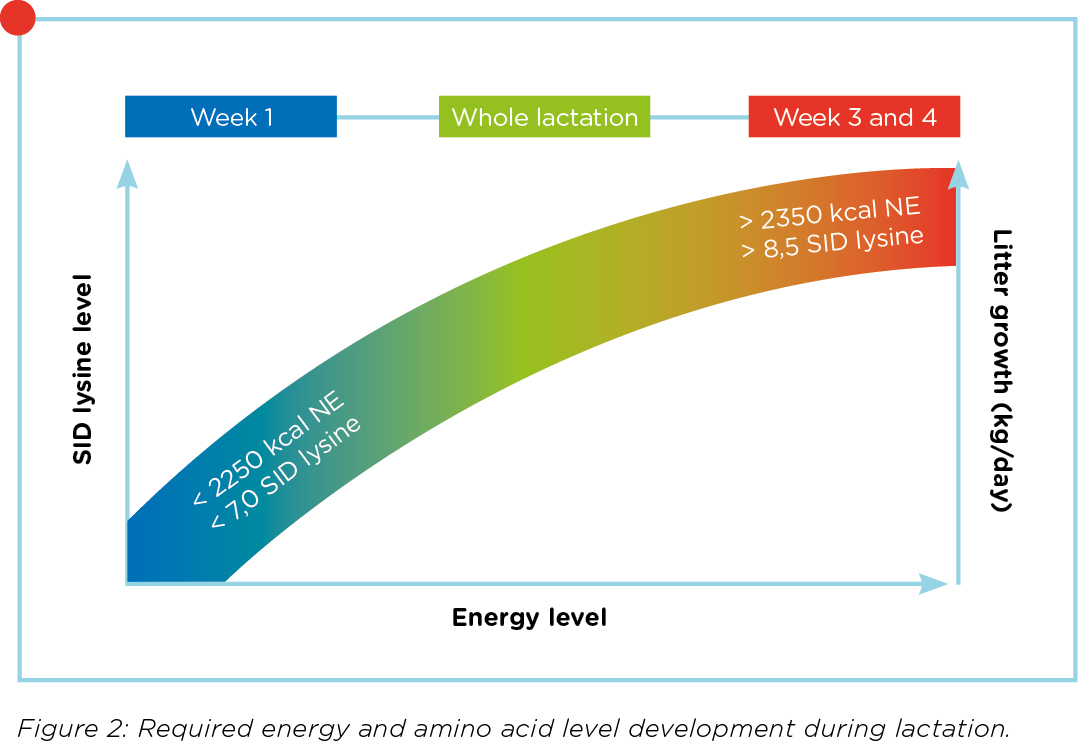 Gestation
Weight, fat and muscle
To make an optimal result possible, it is important to steer on fat and muscle recovery plus development. The parameters weight loss and backfat enable definition of the optimal ratio between amino acids and energy.
Nutritional differences
The differences between a muscle stimulating and a fat stimulating feed composition go up to 18% digestible lysine and over 4 % of energy in table 2 you find a schematic overview. In the FOUNDATION we only talk about amino acids and energy, in the second support tool: FEED DESIGN we share our knowledge about how to influence all the
different production parameters with all elements that influence nutrition.
Feeding schedule
With the help of different feeding schedules and the 3 types of sow feeds it is possible to feed sows optimally.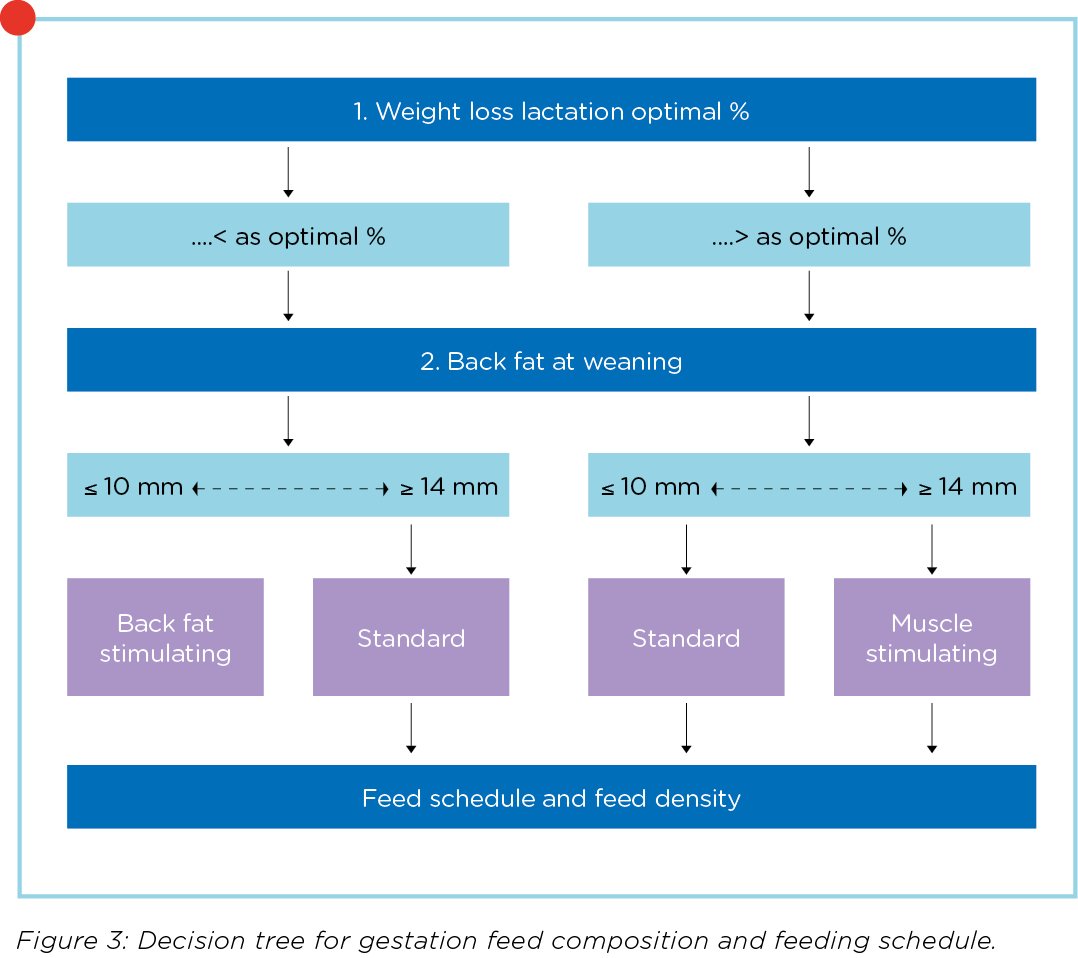 Why support from Koudijs?
We understand the effect of a good feed, a good feed simply is a feed with the right nutritional values and raw materials produced by an appropriate production process and guaranteeing a certain quality level. But: what are the right levels and how can I effect influence different subjects like
manure
lying behavior
piglet vitality
milk yield
We experience time and time again that an open joint communication, knowledge transfer, education and product development lead to strong assortments and successful sales. Start with the Koudijs sow support approach to lay a solid foundation of selling sow feeds in your market successfully.
Related articles on swine